There are many different types of pens out there, but which one is the right fit for you? At O'Brien Corporation our goal is to help you achieve total satisfaction with all your writing instruments. Therefore, let us help you solve this issue! Throughout the world there are four types of common pens including: roller ball, gel, ballpoint, and fountain.
Learn more about custom writing instruments
Roller Ball pens are known for their saturating water-based ink, fine tip, and vast amount of color choices. This style of pen is best for someone who writes fast and is looking for something comfy. Roller ball pens do not require a lot of pressure so your hand will not cramp up as often while you write. The negative consideration of this style pen is that since its ink saturates quickly, it can occasionally soak into other things such as clothing and other pages.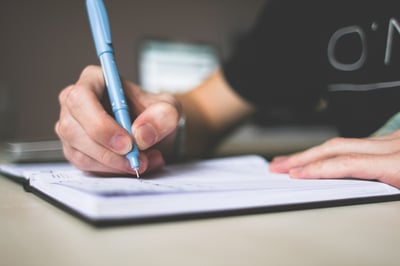 Gel pens are commonly known as the fun pen! Remember when you were a child and you would go to the store and see the huge selection of bright neon pens? Chances are that those were gel pens and you can now easily find them in just about every color known to man! With its sharp edge and unique colors, you are unlikely to ever find a more unique writing instrument.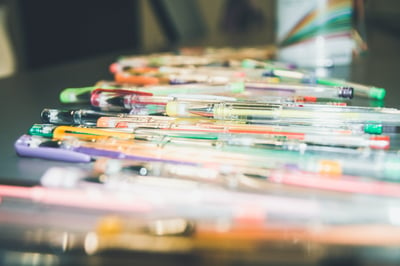 Ball-point pens are the most common pens in use today and for very good reason. This smooth writing tool is not only great for its shading abilities, but also because it will stand the test of time. Since ball-point pens have an oil-based ink, they last longer and dry quicker than any other types of pens. On the other hand, oil-based inks can get a little messy and are not typically recommend if you are writing for a long period of time - especially for left-handed writers.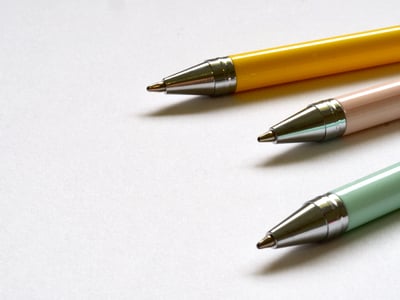 Fountain pens are often viewed as the old-timer! Fountain pens have been around since the 1800s, are the most customizable, and give you the opportunity to change ink colors at any time. Fountain pens are eco-friendly, too, as they can be repeatedly refilled rather than ending up in a landfill. However, using a fountain pen takes practice and they tend to be finicky. Therefore, while they write beautifully, this style of pen is not made for quitters!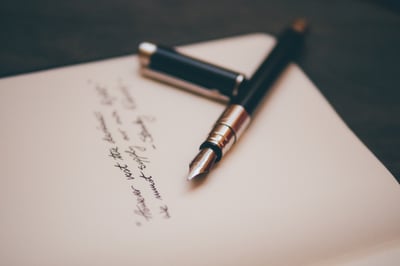 ---
What type of material do you like?
Are you wanting a higher-end metal pen, plastic pen for tradeshow giveaways and everyday use, or have you considered something eco-friendly? Once you narrow down the material and ink, how can you determine what will be best for your everyday writing experience?

As humans it is our fundamental duty to take care of our precious Earth. What better way than to start with a basic writing instrument that we use daily? You might be using an eco-friendly pen right now and not even know it! Eco-friendly pens are often created from recycled material such as plastic and/or sustainable and biodegradable material (such as plastic, rubber, or bamboo) and the options for customization are endless!
---
Line quality - What's that?
Do you need a high-end pen that will stay with the recipient for a long time? Do you prefer something that will glide smoothly as you write? Understanding your target audience and desired campaign outcomes will allow us to find your perfect pen.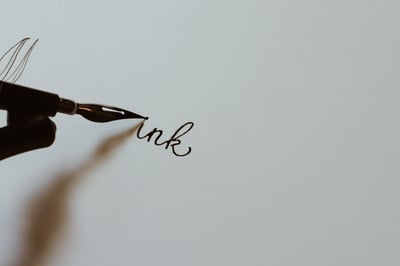 Line quality basically comes down to how thick or thin you want your pen to write. Are you in need of a pen that will write bold words? Then you're going to want to use a pen with a higher line quality. If you are writing a paper for school or signing an important document for work, then a thinner line quality would likely be best for your application.
At the end of the day, every style of writing instrument has its place in the world. If you are someone who writes fast and needs a pen that can keep up with you, then a ball point pen is best. If you are looking for a pen that is fun to write with and glides smoothly, gel pens are likely the perfect option for you. If you want something to write comfortably with for long periods of time, you need the roller ball pen. If you're looking to give a unique gift to a colleague who you appreciate, then the fountain pen is where it's at. Giving a unique gift to a colleague of yours who you really appreciate? Then the fountain pen is where it's at. Understanding which features are most important to you will help us narrow down the unlimited field of customizable writing instruments.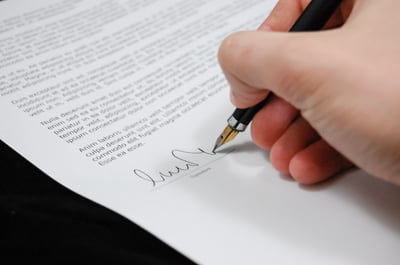 ---
Need Something Unique?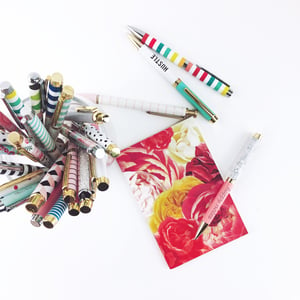 Your pen does not have to be boring! Consider something fresh and unique for your organization's campaign and remember that customization is key!
Whether you are having an event or giving your employees a gift, the possibilities for custom designs are endless. At O'Brien Corporation, when you contact us we will be able to guide you to one of our brand specialists who will assist in your pen design needs! We want you to thoroughly enjoy your pens in every way possible!
Looking for the perfect writing instrument? Click below to get started with your next amazing pen!