Endless Opportunities
When it comes to custom apparel and t-shirt design, the traditional (at times) can significantly outweigh the unique. Quite often we are asked to decorate apparel with the standard 1 color screen print on the left wearing chest. While there is nothing wrong with the traditional (as it's extremely cost effective and "good enough" to get the job done), there is a multitude of incredible decoration techniques and unique locations to explore and take advantage of.
We invite our explorers of the new, the interesting, and the unique to challenge the status quo when creating their next custom shirt design.
Start With Your Canvas
It all begins with the right wearable for the right person, the right place, and the right time. According to the Global AD Impressions Study, outerwear, t-shirts, hats, and polo shirts are the best with regard to brand impressions and staying power. With the right piece and the right decoration, these blank canvases can become high-powered marketing tools to effectively drive your message home.
T-Shirts are one of the most powerful and cost-effective ways to communicate your message. 63% of recipients keep promotional t-shirts for ever a year with 47% keeping them for over two years. That's 3,400+ impressions with a cost of 2/10 of a cent per impression.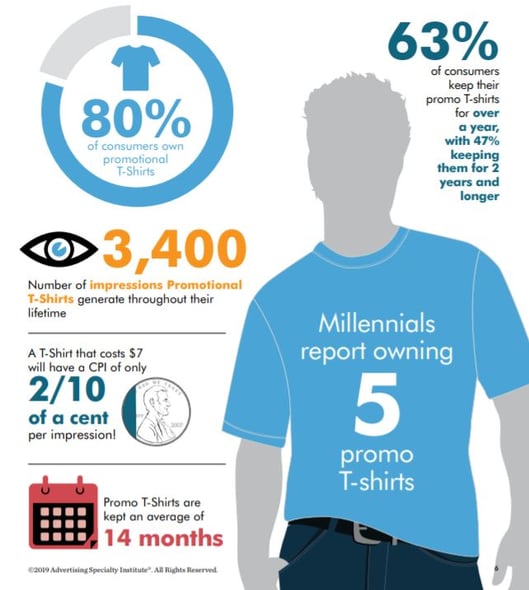 While t-shirts are one of the most efficient ways to communicate your brand message, there are a number of other canvas that can be decorated with creativity and individuality:
Polos / Knits
Sweatshirts / Fleece
Caps
Activewear
Outerwear
Woven / Dress Shirts
Workwear
Bags and other imprintable accessories
Top brands like The North Face, Nike, OGIO, Eddie Bauer, American Apparel, and Carhartt allow decorators to wholesale their catalogs at a discounted price. Talk to the O'Brien team about available options to make the most of your next custom apparel opportunity.
Decoration Techniques
From the classics to the newest trends, there is a large menu of creative opportunities to decorate apparel. Let's challenge our imaginations and step outside of traditional methodology.
HiDefinition Screen Printing
Screen Printing
Embroidery
Laser Etching
Heat Transfer
Dye Sublimation
Debossing
Mixed Media
Learn more about the individual techniques by reviewing our Core Decoration Menu for branded apparel.
Unique Locations
It's all too easy to run a single-color logo on the left wearing chest of a garment. Did you know, however, that apparel decoration is incredibly flexible? One can decorate on the sides, yokes, and hips as well. With techniques like embroidery, heat transfer, and dye sublimation, custom imprints can literally be applied anywhere.
A lover of the traditional decoration methods? Check out our Traditional T-Shirt Imprint Location Guide and Imprint Sizing Guidelines to help you better execute on your next apparel project.
Creating a Better Design
When you look good, we look good. Our Create a Better Shirt program gives you the tools and knowledge you need to make your design stand apart from the pack.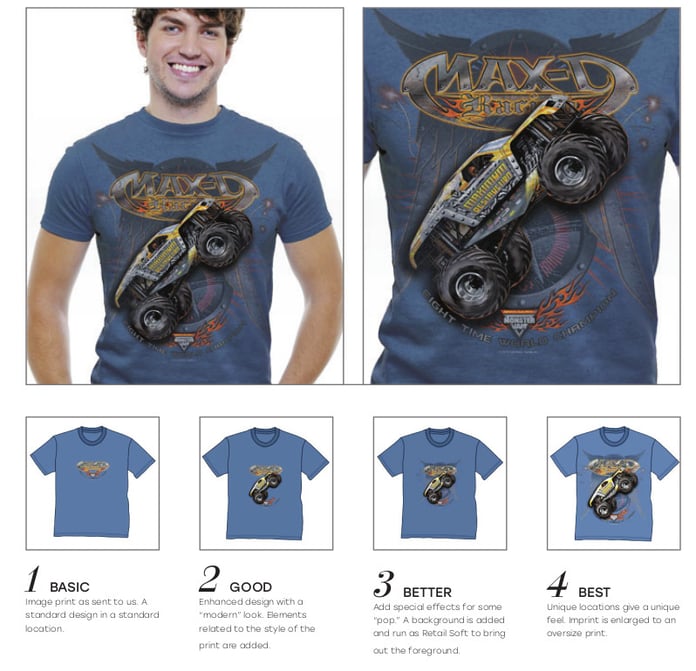 Download our Create a Better Shirt guide for future reference.
There is a world of possibility when it comes to decorated apparel. Contact us for a complimentary consultation and we'll make sure your next project is as unique as you are.