Remote recognition in an ever-changing world
The University of Illinois Hospital & Health Sciences System (UI Health) is a 465 bed hospital that provides comprehensive care, education, and research to the people of the greater Chicago area. As part of Human Resources' initiative to recognize its staff during the initial year of the COVID-19 pandemic, UI Health engaged O'Brien to design, manufacture, and distribute a custom treat for their remote workforce.
O'Brien collaborated with the UI Health Human Resources lead to develop a gift that mirrored the quality and impression of past celebrations, but with touchless delivery to individual residential locations. The project team proposed a custom kit containing multiple components within the theme of "remote relaxation." Considering the stress of the lockdown, the project team intended to provide their recipients with an opportunity to sit back, relax, watch a movie, and enjoy some snacks.
Kit Components
Custom printed mailer box
Movie theater themed snacks
Branded "Lunch on Us" card and 4" x 6" folded card carrier
Custom 4" x 6" thank you card from Human Resources leadership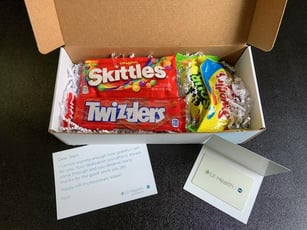 O'Brien designed, produced, and fulfilled all of the project components into single kits for each recipient. Utilizing an address list provided by UI Health Human Resources, O'Brien labeled, drop shipped, and tracked each package while assuring that UI Health could continue their tradition of employee recognition despite the constraints of the COVID-19 lockdown. The kits were well received and considered a hit with the recipients and leadership alike. The end result was a collaborative partnership accented by O'Brien's on-site fulfilment and distribution services, ultimately leading to a successful project with future replication opportunities.
Health Care Human Resources Week, celebrated during the third week of March, is designated to recognize human resources professionals in healthcare organizations throughout the nation for their important role across the continuum of care. UI Health is a strong supporter of employee recognition and engagement and each year brings a new opportunity to design, develop, and distribute a unique experience for the UI Health Human Resources staff.